March 22nd, 2020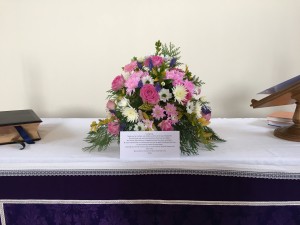 Happy Mothers day to you all
I had just about finished a sermon for tomorrow when I was informed that Bishop Jo had put on the diocese website for all to hear, if you would like to hear it direct, as we dont get the opportunity very often to hear a bishop preach I decided to put mine on hold and inform you of this. however (thanks to Sarah who turned it into a word document.)I have attached a copy for you to read and a link to the video, may your day be wonderful tomorrow, even with the very wise restrictions placed on us.
Lets praise God together by doing morning Prayer and if possible light a candle for your window an praying for Gods light to shine in these challenging times
God bless you, my brothers and sisters.
Stefanie & Diane
Bishop Jo has recorded a short message sermon for Mothering Sunday.
"I write this with special love and prayers to those who are anxious for self-isolating mothers and for those mothers cooped up with their children, anxious about how to manage over coming weeks. Jesus' words from the cross to his mother and the beloved disciple – committing each to belong and care for the other in the new family in Christ's body (John 19:26-27)– make ever more sense. Open our eyes, O Lord, that we may behold all whom you present to be our mothers, brothers, children in these extraordinary times." Bishop Jo
Bishop Jo's Sermon for Mothering Sunday can be foundhere
Document here