September 29th, 2020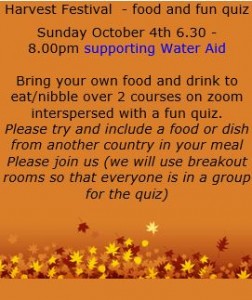 Hi everyone,
Just in case you have missed the information re harvest this year-
This year we will be having a harvest festival on zoom (hopefully including non zoom friends). This year we are asking for donations for water aid. I know some of you have taken up Stefanie's suggestion to put 5p into a pot every time you use water or boil the kettle or use the loo – but all donations to this very important cause are welcome.
Bring your own food or snacks and drinks to the evening. Eating will be interspersed with a fun quiz. Through the magic of zoom we can put people into groups for the quiz so please do join us, you will not be on your own.
The church can welcome 6 people who do not have access to zoom to join the harvest festival – please let Stefanie or Diane know if you would like to join the group in person – don't forget to bring your own lunch box and drink.
It would be great if you could include something to eat or drink from another country, could be something little or a complete dish – do I hear a rush to the kebab shop??
Really hope you are able to join the evening, it's a lovely chance to be together, give thanks for our food and drink and support a very important cause.
With every blessing,
Diane