What's On-St Francis
Regular Events at St Francis
Morning Prayer: Morning Prayer is on zoom Mondays Tuesday and Wednesday  8.30 – 9.10.
Evening Prayer/Compline: Tuesday on zoom 7.30pm
Praying for Gods wisdom and guidance for our future, for those who are unwell amongst us, any issue that may be current at the time and anything God may place on our mind.
Tea, Coffee and Chat – every Tuesday, Open 9.00 – 11.30 from 12th September
Tots' Praise – every Wednesday 10.30 – 11.45am
Monday Lunch Group
Meet monthly on the second Monday for light two-course lunch and fellowship. 1pm for 1.15pm. Book your meal in advance. Contact Val Holt on 01483 852764.
Craft in Company
Craft in Company takes place on the first Friday of the month from 10am to noon in St Francis' Church.Bring your own project and craft in company! Details from Jyl Wheeler on 01483 852493.
House Group
Different groups meet in the afternoons and evenings for bible study, discussion, prayer, tea and biscuits. For details of dates and venues from the Rev'd Stefanie Hodges on 01483 504228.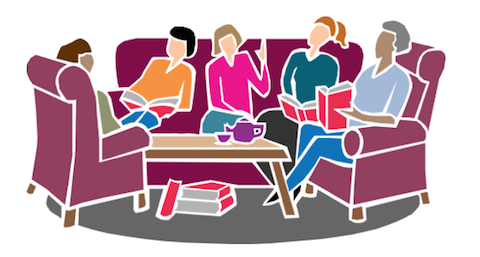 St Francis Book Club
The Book group will be meeting on June 26th 10 Weston Road. We will be reading The salt path by Raynor Winn
. Anyone who enjoys reading is welcome to join us.
We have read books like A Street Cat Named Bob, The Snowman (no, not that one, this one was quite scary!) and Gone Girl.
New Groups
4 new house groups are in the process of being formed If you are interested, please put your name down on the list at the back of the church, thank you.
Fairlands Group 'Women in Bible' Wednesday. 7.30pm – run by Dawn Murrell. You don't have to live in Fairlands to attend. Subject to be decided.