What's On-St Francis
Regular Events at St Francis
Meditation
Join our weekly meditation group based on the Christian tradition of contemplative prayer – a simple, practical and meaningful way to awaken and deepen your spiritual life. Wednesdays 8pm to 9pm in the Quiet Room at St Francis' Church. 
Daily prayer
Morning Prayer: 9.30am – 10.00am Mon, Tues, Thurs, Fridays
Evening Prayer/Compline: Mon, Weds, Fri 8.00pm – 8.15pm
Praying for Gods wisdom and guidance for our future, for those who are unwell amongst us, any issue that may be current at the time and anything God may place on our mind.
Women's Fellowship
Meets every third Monday in the month from 2.30pm to 4.30pm in the hall. Varied program of guest speakers; tea and friendship. Contact: Sue Hammond.Tel: 01483 562661 
Community Shop
The last Saturday of each month from 11am to 1pm. Plenty of good as new children's and adults clothing, bric-a-brac, books, etc. Refreshments available too.
Monday Lunch Group
Meet monthly on the second Monday for light two-course lunch and fellowship. 1pm for 1.15pm. Book your meal in advance. Contact Val Holt on 01483 852764.
Men's Breakfast
Cooked English breakfast and tea or coffee; networking opportunities with lively chat and hearty food; every first Saturday from 8.30am to 10am in the hall. Call 01483 823557.
Craft in Company
Craft in Company takes place on the first Friday of the month from 10am to noon in St Francis' Church.Bring your own project and craft in company! Details from Jyl Wheeler on 01483 852493.
The Basics of Faith group starts on 16th September 4.00- 6.00 pm, afternoon tea included. Wednesday 20th, 27th September, Monday 2nd October, Wednesday 11th, 18th October- all 7.30 – 9.00 pm and Saturday 1.00 – 6.00 pm, lunch included.
You don't need to know anything about the Bible. You won't be asked to read aloud, pray or sing. You can ask any question you want. Please feel free to let people know about this opportunity and to bring any friends or neighbours you think might be interested.
House Group
Different groups meet in the afternoons and evenings for bible study, discussion, prayer, tea and biscuits. For details of dates and venues from the Rev'd Stefanie Hodges on 01483 504228.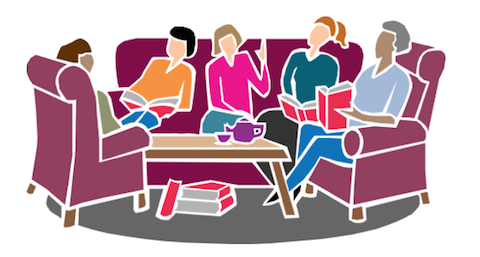 St Francis Book Club
We are a group of people who enjoy reading a variety of different books and then getting together to chat about them.
We have read books like A Street Cat Named Bob, The Snowman (no, not that one, this one was quite scarey!) and Gone Girl.
BOOK GROUP.
The next Book Club will meet on Wednesday 15th August at 7.45pm
Due to unavailability the latest choice for the book group has changed to The Kite Runner by Khaled Hosseini. We will return to Hidden for the next Book Club.
New Groups
4 new house groups are in the process of being formed  If you are interested please put your name down on the list at the back of the church, thank you.
Fairlands Group 'Women in Bible' Wednesday. 7.30pm – run by Dawn Murrell. You don't have to live in Fairlands to attend. Subject to be decided.
Basics of Faith Group –- for all who are interested in finding out more about the Christian Faith. Saturday mornings (tie to be decided)  
Thematic themes – ['Decisions- Seeking God's Guidance'] to be hosted at Rae Barbour. Thursday 1.30pm  
What is God like – run by Sallie Anne.
Biblical Study starting with the Book of James, – Wednesday morning for 1 hour after morning office. – Stefanie